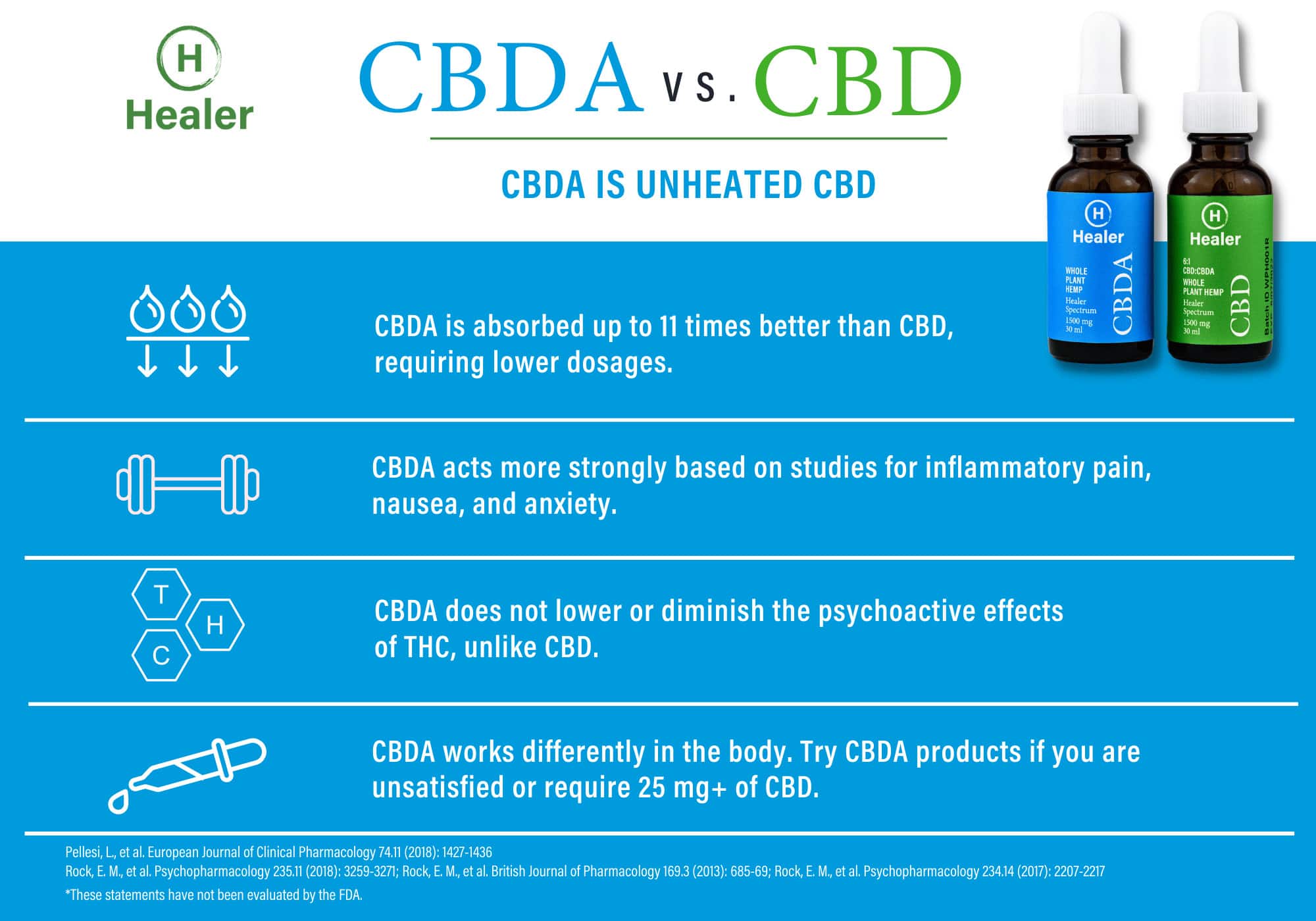 What's the difference between CBD and CBDA?
The main differences between CBD & CBDA are: CBD can be extracted from the flower and leaves of hemp varieties, while CBDA is the raw, unheated precursor of CBD.
Both CBD and CBDA are non-impairing, non-intoxicating cannabinoids and help support body and mind. They are just two of over 100+ cannabinoids and other physiologically active constituents in Cannabis sativa.
Cannabidiol (CBD) is a well-known component of hemp with diverse health benefits. Many are surprised to learn that the hemp plant does not directly produce CBD. The plant actually produces cannabidiolic acid (CBDA) which converts to CBD slowly at room temperature, or rapidly when exposed to high temperatures.
CBD and CBDA share many physiologic properties, but also have some important differences:
CBDA is more easily absorbed (up to 11 times) when taken by mouth, compared to CBD.  [1]
CBDA and CBD both have anti-inflammatory properties, but may act via different mechanisms in the body. For example, unlike CBD, CBDA has been shown to decrease the activity of the COX-2 enzyme, an enzyme responsible for increasing inflammation.[7]
CBDA may be more potent than CBD for some applications based on studies of rodent models of nausea [4], stress-induced anxiety [5], pain and inflammation [3], and seizures [2]. We don't know if similar results translate to humans yet, but it is possible that CBDA may be more effective than CBD at lower doses.
CBDA is unlikely to mitigate the adverse effects of THC, a common usage of CBD. While many people appreciate the combined effects of CBD and THC, some find that CBD weakens the beneficial effects of THC and may prefer CBDA.