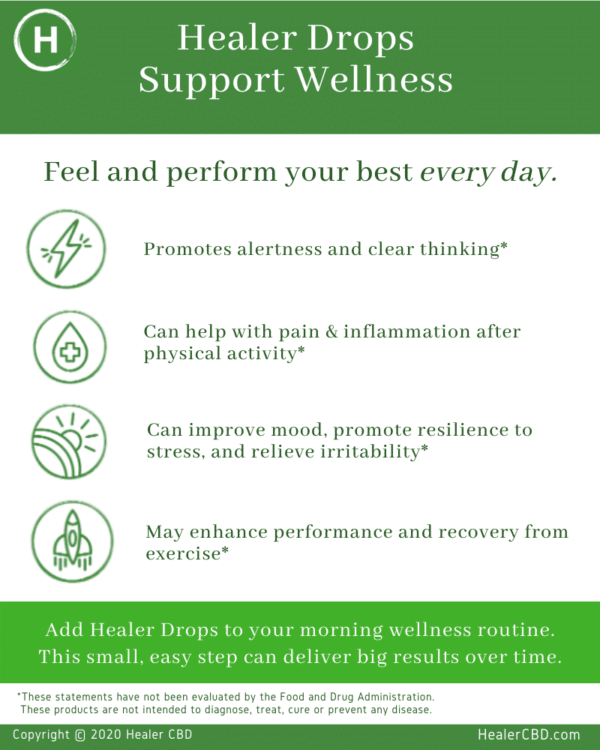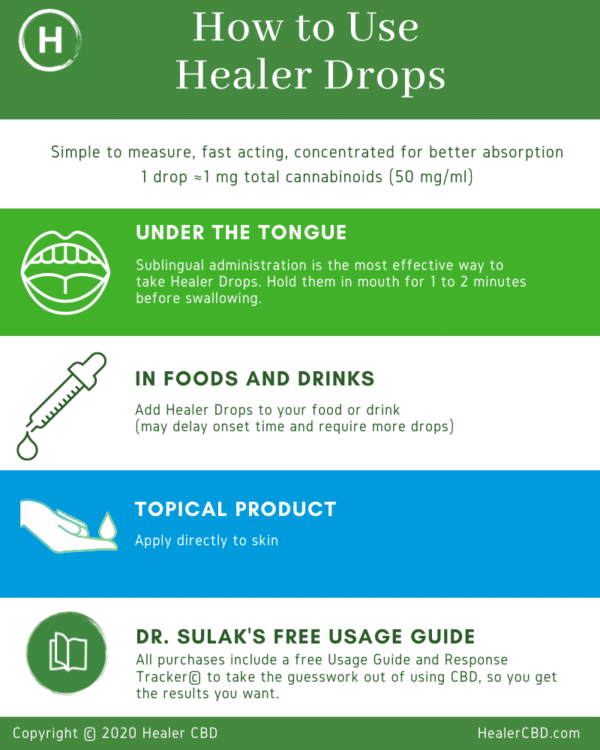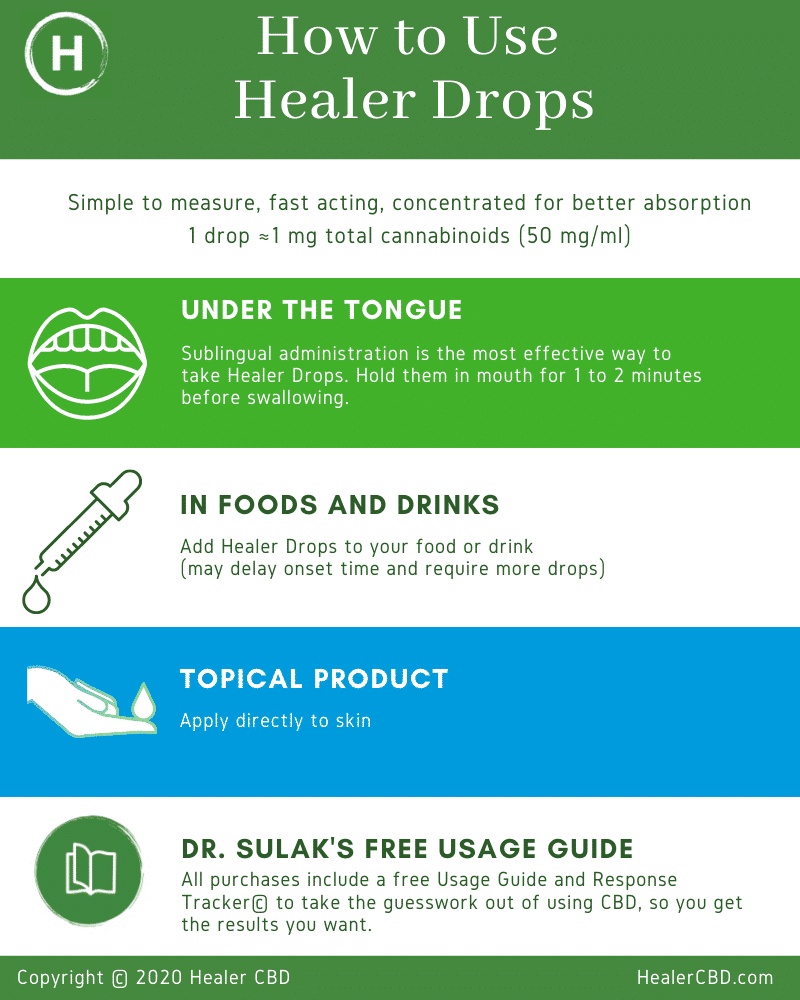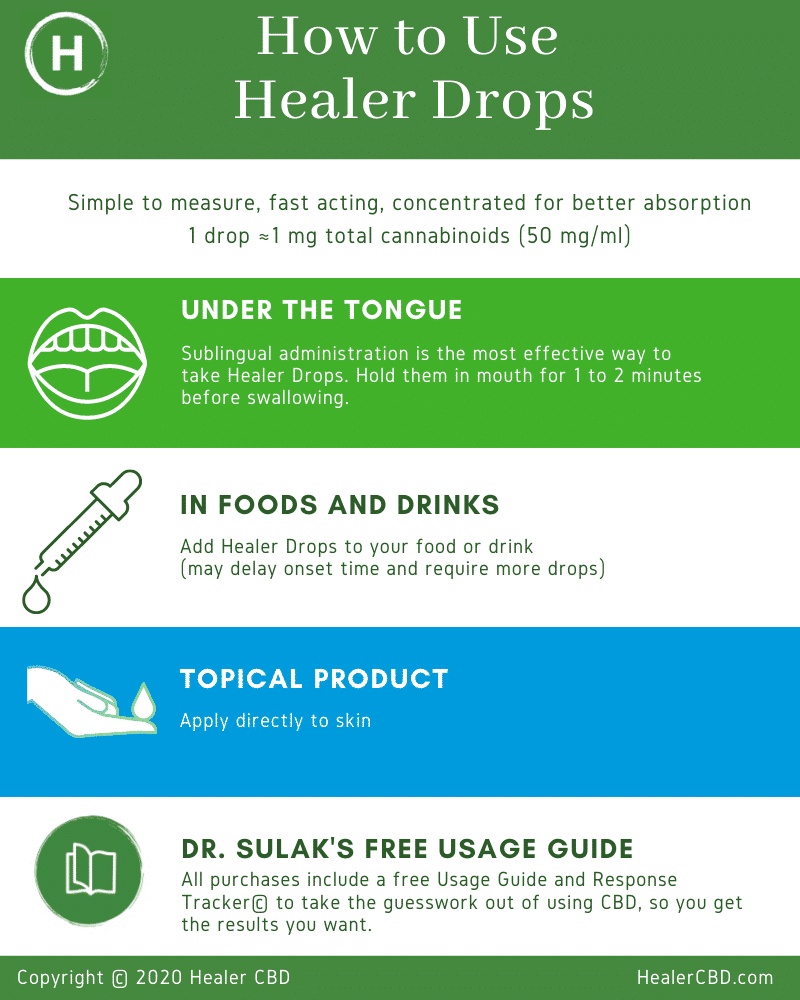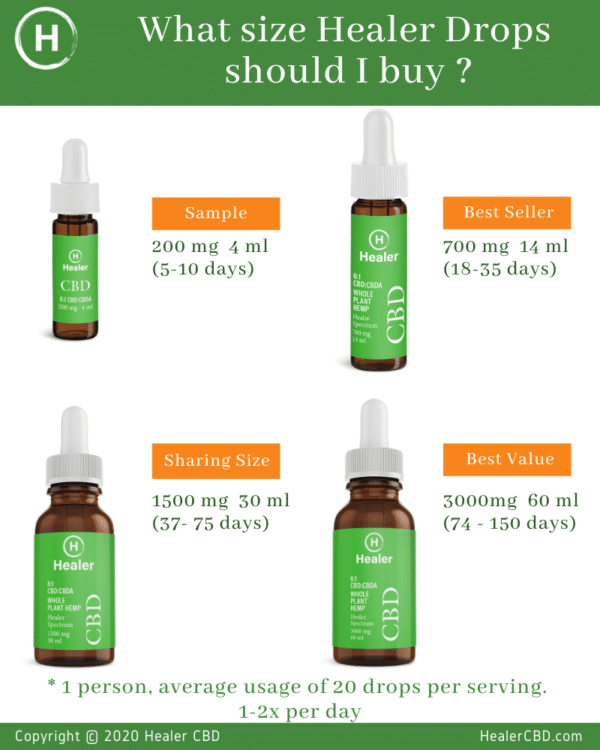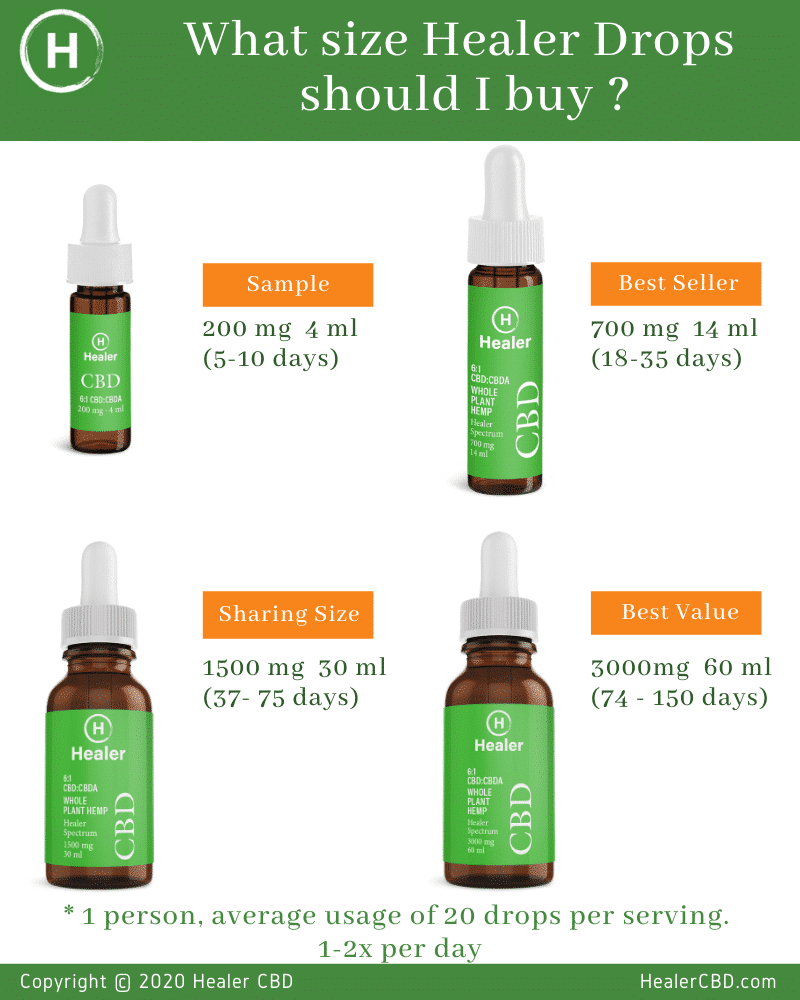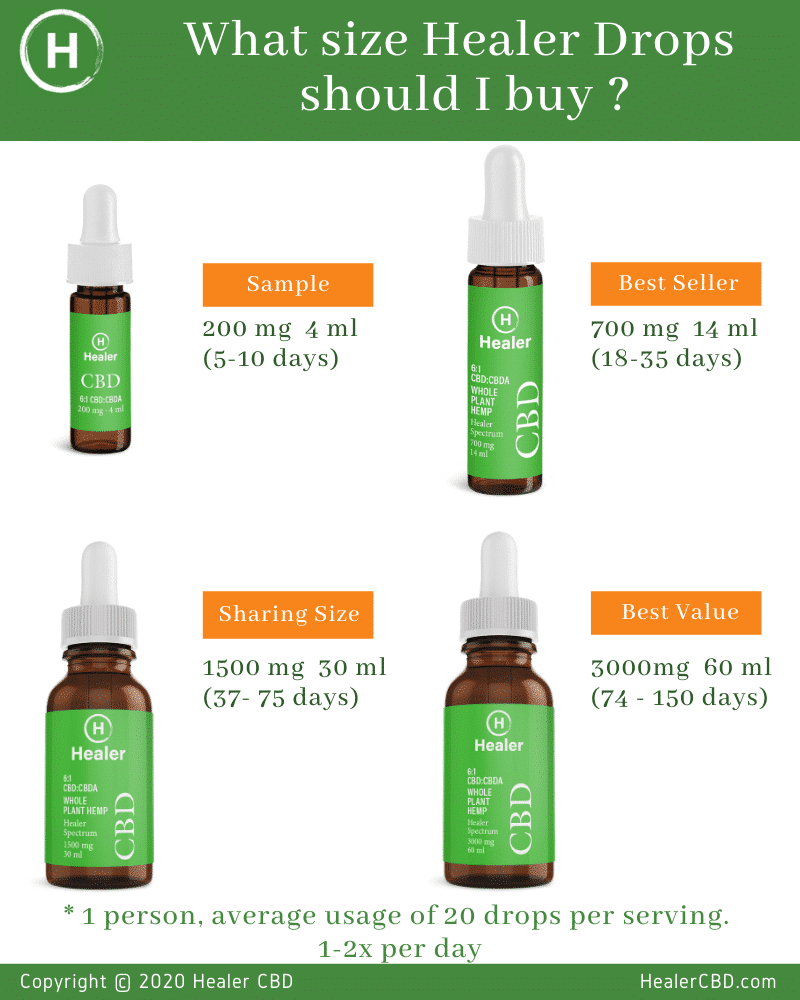 Free Sample of Healer CBD Drops
$29.97
Healer CBD is my daytime choice for brain fog, pain, inflammation, my mood. This has been a big blessing while I await surgery. I highly recommend Healer CBD. No pesticides and a reliable dosage…is a great relief also." Giorgi B – CBD Drops Customer
Get your free sample CBD Drops 6:1 CBD:CBDA formula.  A $29.97 value, just pay $6.97 shipping.
Choose Dr. Sulak's non-impairing CBD formula with a 6:1 ratio of CBDA, the unheated form of CBD, and the Healer Spectrum, so you can achieve better results while using less to relieve:
Mental worry*
Minor aches and discomfort*
Mood, stress, and irritability*
Improve alertness, focus and clear thinking*
How to get your free sample:
4 ml (200 mg) bottle a $29.97 value

Usage Guide & Response Tracker

Use coupon "FreeCBD" and click apply coupon
You will not be enrolled in a monthly subscription
114 in stock
Lab Tested
Non Impairing
Organically Farmed
Vegan
Gluten Free
Non GMO
Description
Taste and feel the difference of Healer's non-impairing 6:1 CBD:CBDA formula.
Because we are committed to helping you feel and perform your best, Dr. Sulak includes CBDA, the original raw form of CBD, and the Healer Spectrum of the plant's other beneficial compounds. He's found that even small amounts of these compounds can have significant benefits.
Healer drops are made in small batches at our facility in Maine and are always third-party tested to be free of impurities with a certificate of analysis you can review.  We source organically farmed hemp plants grown in Maine, specially selected for their beneficial compounds, and "Certified Clean" by the Maine Organic Farmers and Gardeners Association (MOFGA). 
Know how much to take and achieve your optimal results with Dr. Sulak's clinically validated, step-by-step Usage Guide and Response Tracker©. Healer drops are consistently easy and reliable because 1 Healer Drop  ≈ 1 mg of cannabinoids.      
Supporting your wellness
Promotes alertness and clear thinking* 

Can help with pain & inflammation after physical activity* 

Can improve mood, promote resilience to stress, and relieve irritability*  

May enhance performance and recovery from exercise*
Healer at bedtime?
First, try CBD during the morning and middle of the day for 3–5 days before trying it right before bedtime. Many people successfully use CBD before bed and in the middle of the night, while others report that their use during the day helps them to relax and sleep more at night.
CBD may disturb sleep in a small number of people when taken directly before bed. If you find CBD energizing and want to try it at bedtime, you may find that increasing your usage amount by 2x–4x may decrease the energizing effect and help with relaxation and sleep.
Healer Spectrum vs. the rest
Based on the latest science and Dr. Sulak's clinical experience, we believe keeping the widest range of the plant's compounds intact improves results at lower usage amounts. 
While many products advertise themselves as "full spectrum", if you can find their analytic results you'll note that most only contain CBD and THC, with little or no acidic and minor cannabinoids, terpenes and other valuable phytonutrients.
It's also common for hemp plants, even those organically grown, to contain various contaminants like mold, yeast, bacteria, viruses and heavy metals from the growing, harvesting and drying process. Most extraction processes either concentrate these contaminants or remove them while also stripping the plant's other valuable compounds.
The Healer Spectrum is created by our patented nano-filtration extraction process which removes impurities while maintaining the "entourage" components of hemp — that complex mixture of hundreds of plant compounds– to deliver maximum relief. Compared to so-called "full-spectrum" and "broad-spectrum" products, Healer Drops deliver more of the plant's naturally occurring acidic and minor cannabinoids, like CBDA, CBGA, THCA, CBC, CBG and CBDV, as well as substantial quantities of terpenes, flavonoids and other phytonutrients.
Refrigerate
For best results, we recommend refrigeration to preserve the CBDA and Healer Spectrum. When left at room temperature, you can still use the products – over time (30-90 days) they simply will have higher levels of CBD and lower levels of CBDA and other temperature-sensitive components of the Healer Spectrum.
Healer Whole Plant CBD drops come in 200 mg, 700 mg, 1500 mg and 3000 mg sizes.
Each purchase includes:
Step-by-step Usage Guide and Response Tracker©

30 day satisfaction guarantee

Healer Helps.  As you heal, you help others.
This product is:
Healer Spectrum

Non-impairing; less than 0.3% THC

3rd-party lab tested

Made in Maine

Organically farmed

Non-GMO

Vegan

Gluten free

Shippable to all US States (except Idaho, Nebraska and South Dakota). No shipping outside USA.
Ingredients: Organic MCT coconut oil, Organically grown MOFGA Certified Clean Maine Industrial Hemp <0.3% THC, Traces of Ethyl Alcohol. 
*These statements have not been evaluated by the Food and Drug Administration. This product is not intended to diagnose, treat, cure or prevent any disease.

Reviews
Lab Results
A Certificate of Analysis, or COA, is a document issued by a third-party, independent testing laboratory that confirms that a product meets its specific specification.  Each COA details the quantity of cannabinoids and terpenes found in each product as well as confirming that each product does not contain harmful heavy metals, pesticides, solvents, and pathogens. ​COAs are meant to keep customers safe and informed, but they also help emphasize quality. It's one of the reasons you can trust our product quality, safety, and consistency.
A separate COA is available for each batch of products we sell.
Frequently asked questions
How do Healer Drops support wellness?
How do I use Healer Drops?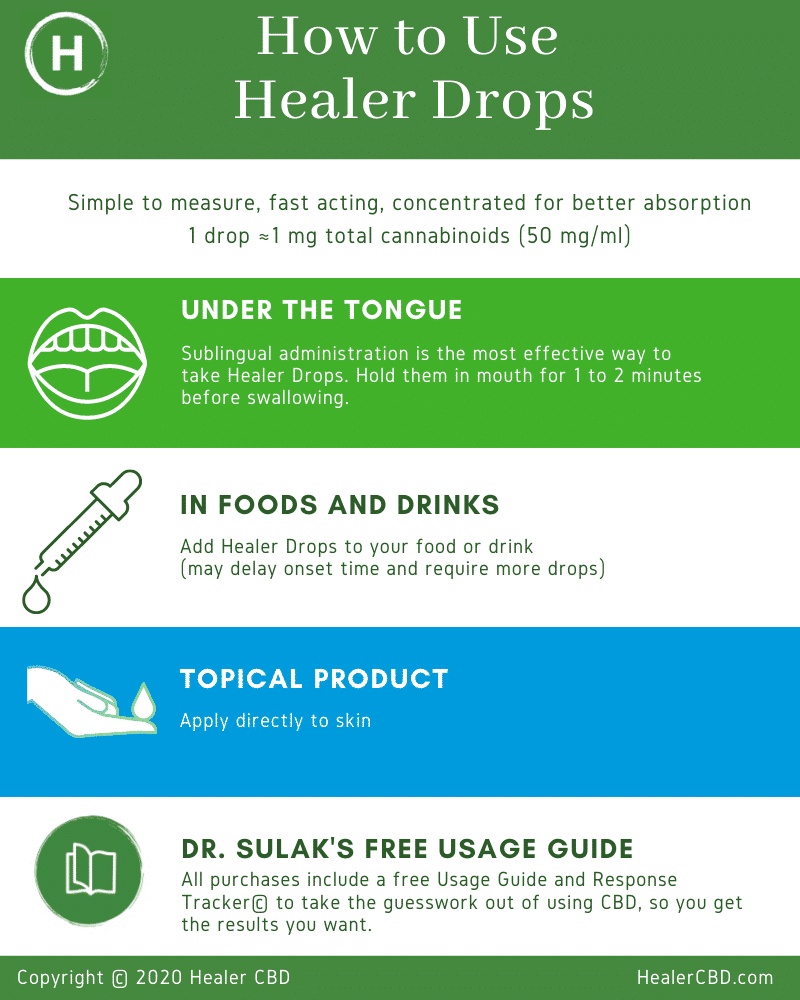 What size Healer Drops should I buy?