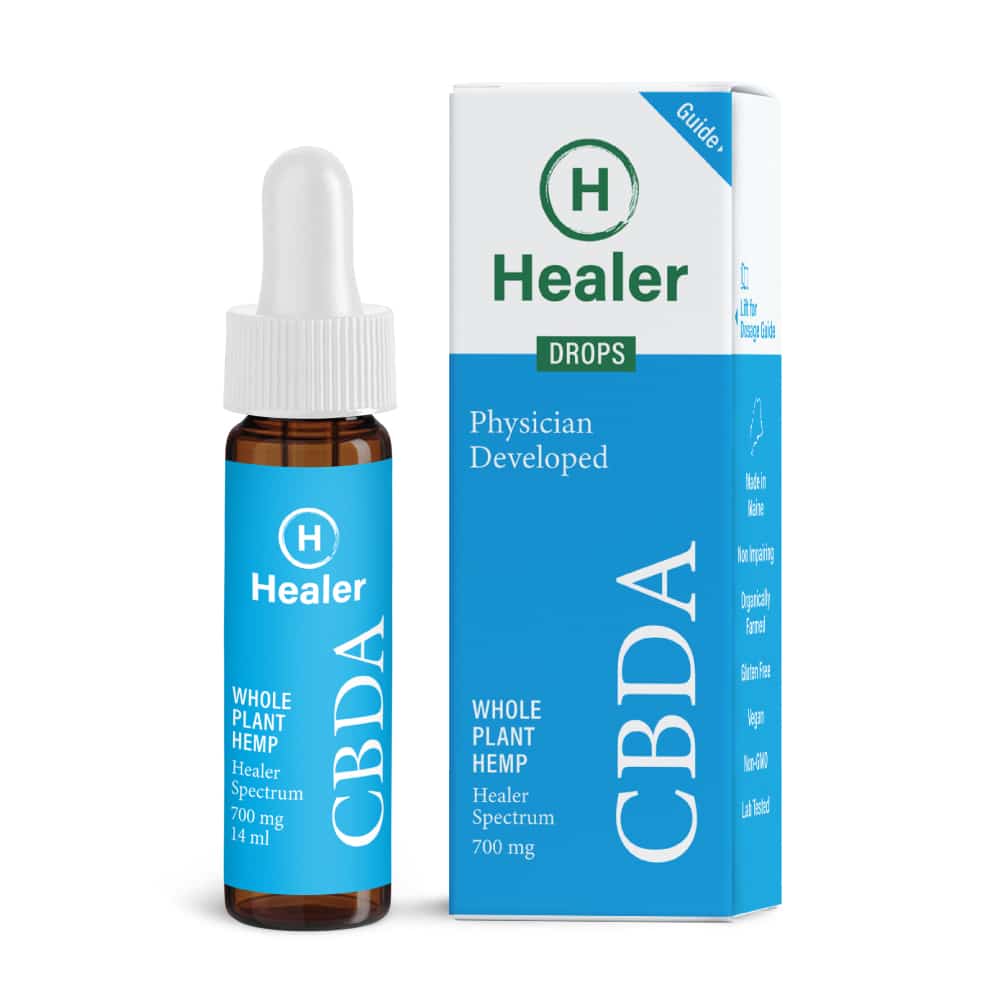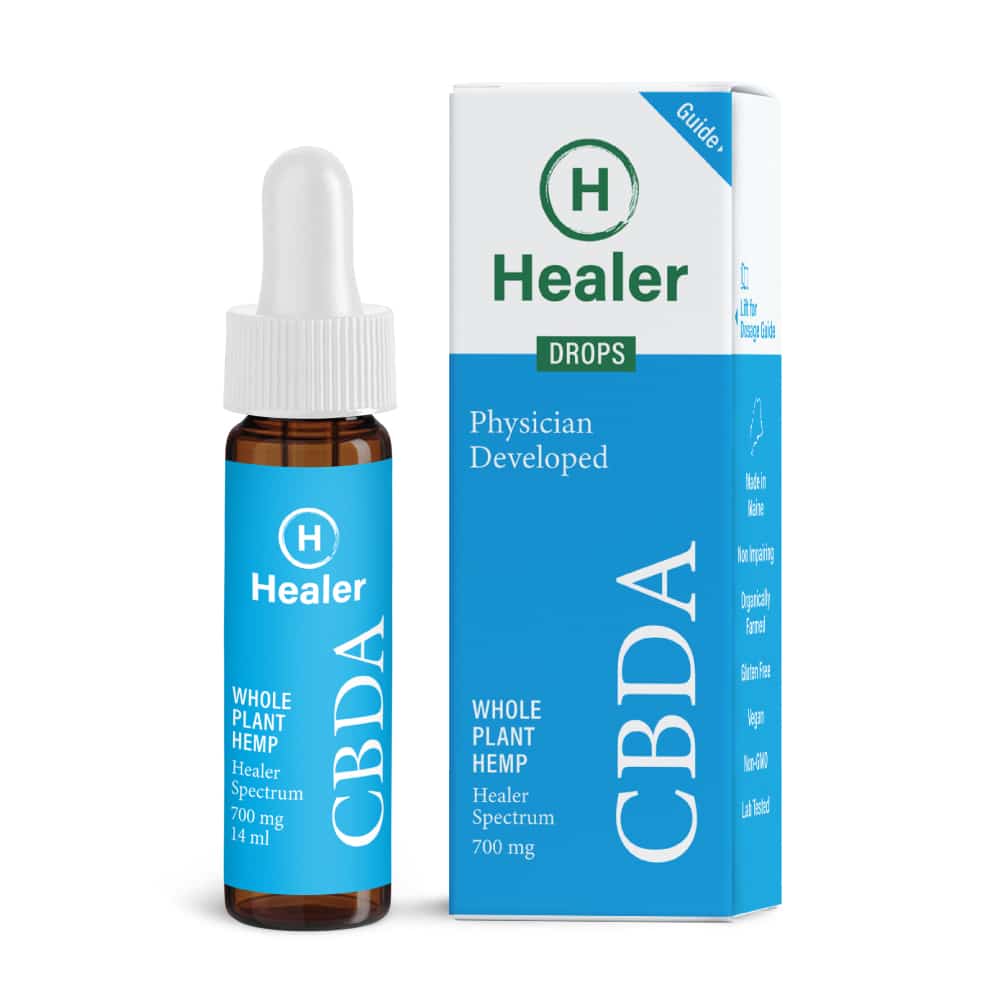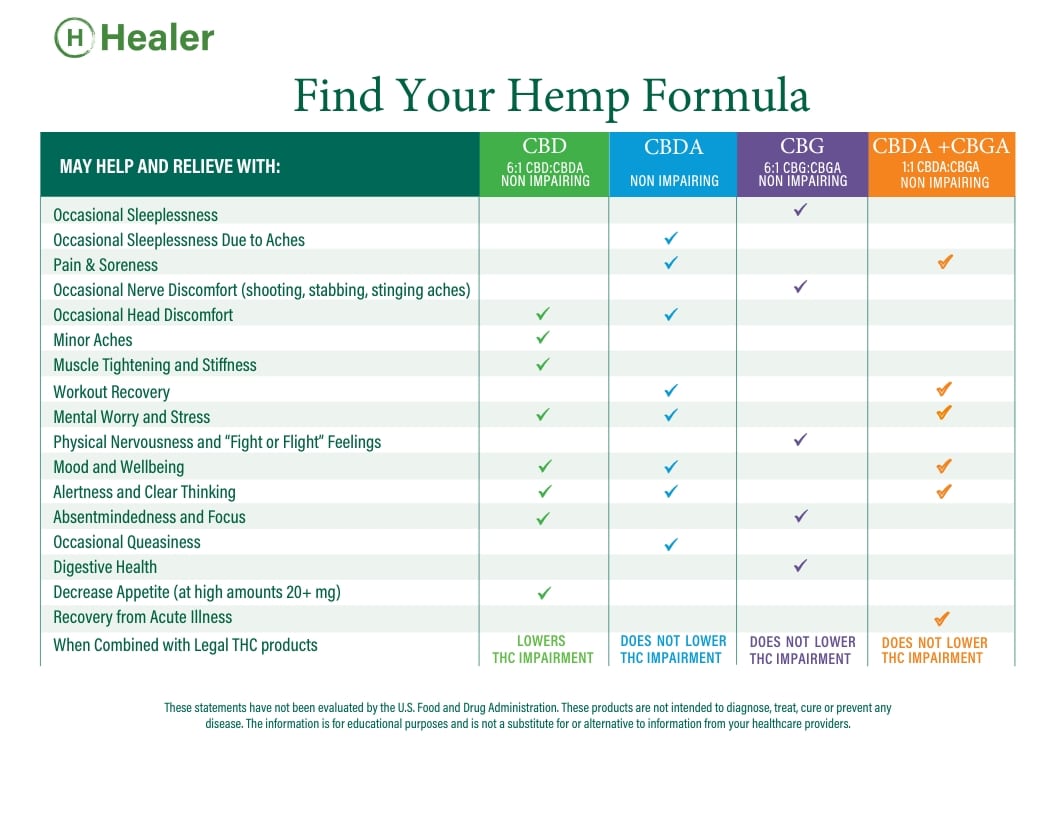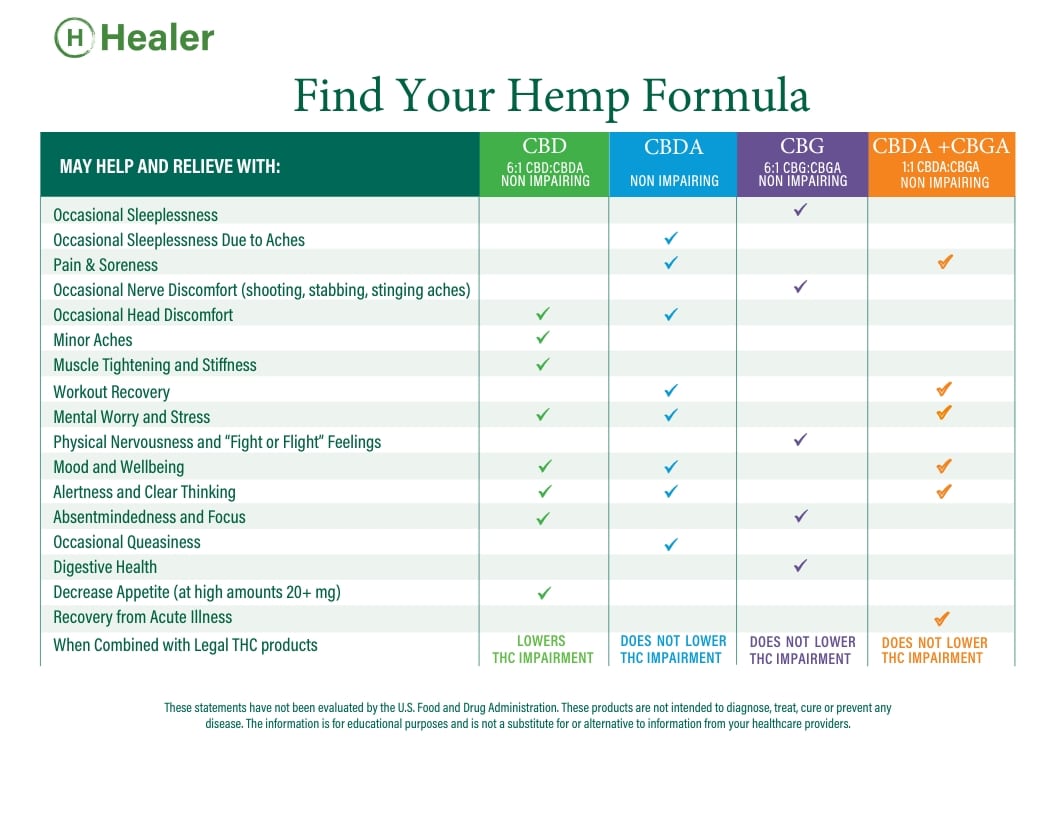 CBDA Oil Drops
$29.97 – $204.97 — or from $23.98 – $163.98 / month
"The best out there!  I've tried many different versions of CBD and Healer CBDA Drops out performs them all. I am quite happy with the results of this product." – Rosie B.
CBDA oil is the unheated form of CBD and is non impairing. Choose Dr. Sulak's CBDA formula for its more powerful benefits compared to CBD to relieve:
Pain and inflammation after physical activity*
Occasional sleeplessness*
Mood, stress, and irritability*
Promote alertness and clear thinking*
Unlike CBD, CBDA will not alter the psychoactive effects of THC products. Includes Usage Guide.
Get 20% Off
+ Free CBDA+CBGA Drops 200 mg & Free Shipping with $75 purchase.

Coupon: Fallgift - Ends 10/02/23
- $29.97 value. *Not valid on previous purchases
Lab Tested
Non Impairing
Organically Farmed
Vegan
Gluten Free
Non GMO
Description
Dr. Sulak's clinical findings with CBDA, Healer's study and several animal studies show that even small amounts can have significant effects while being non impairing and non-habit forming.
We never heat our CBDA Drops and recommend you keep them refrigerated.  Our CBDA Oil Drops taste like a freshly juiced plant because it contains more of the plant's unheated beneficial compounds and complex terpenes which creates a more intense flavor than our CBD Drops.
1 drop ≈ 1 mg of total cannabinoids,  1 ml = 50 mg of total cannabinoids.
Need help? Get a free consultation from our trained staff. Contact us
Healer Study with CBDA Drops
While there are limited amounts of peer-reviewed clinical human studies, Healer has performed independent 3rd party studies in partnership with Radicle Science. In an observational study of 103 consumers taking CBDA Drops:
82% experienced improvement of their pain symptoms*
78% experienced improvement in their anxiety symptoms*
68% experienced improvement in their sleep symptoms*
7% experienced no effect *
Less than 5% experienced any side effects*
Healer CBDA Oil Supports Wellness
Reduce pain and inflammation after physical activity*
Relieve occasional sleeplessness*
Promotes alertness and clear thinking*
Improve mood, promote resilience to stress, and relieve irritability*
Enhance performance and recovery from exercise*
Why Use CBDA Oil Drops?
You want to try CBDA's more powerful benefits or know you respond better to CBDA.

You've tried CBD in the past in moderate to high amounts (25-50mg) and have been unsatisfied with the results (25-50 drops of Healer CBD)

You're using THC and you don't want your CBD hemp product to decrease its effects
CBDA Oil Ingredients:
Organic MCT coconut oil, certified organic Maine hemp <0.3% THC, traces of ethyl alcohol. 
CBD and CBDA – What's the difference?
Cannabidiol (CBD) is a well-known component of hemp with diverse health benefits. Many are surprised to learn that the hemp plant does not directly produce CBD. The plant actually produces cannabidiolic acid (CBDA) which converts to CBD slowly at room temperature, or rapidly when exposed to high temperatures.
CBD and CBDA share many physiologic properties, but also have some important differences:
CBDA is more easily absorbed (up to 11 times) when taken by mouth, compared to CBD.  [1]
CBDA and CBD both have anti-inflammatory properties, but may act via different mechanisms in the body. For example, unlike CBD, CBDA has been shown to decrease the activity of the COX-2 enzyme, an enzyme responsible for increasing inflammation.[2]
CBDA may be more potent than CBD for some applications based on studies of rodent models of nausea [3], stress-induced anxiety [4], pain and inflammation, and seizures [5]. We don't know if similar results translate to humans yet, but it is possible that CBDA may be more effective than CBD at lower doses.
CBDA is unlikely to mitigate the adverse effects of THC, a common usage of CBD. While many people appreciate the combined effects of CBD and THC, some find that CBD weakens the beneficial effects of THC and may prefer CBDA.
Dr. Sulak's Step by Step Usage Guide
Our products include Dr. Sulak's clinically validated, step-by-step Usage Guide and Response Tracker©.  CBDA affects everyone differently.  Knowing how much you are taking is just one piece of the puzzle.
We make it easy to find your optimal usage amount because our drops are reliably simple to measure. Our guide walks you through a straightforward process that allows you to track your response so you can better understand how taking more or less affects you.
Our drops are concentrated and consistently formulated — easy to measure by drop or by volume, whichever you prefer.
1 drop ≈ 1 mg of total cannabinoids
1 ml = 50 mg of total cannabinoids.
No mental math needed:  Feel confident and in control knowing exactly how much you're taking.
Healer Spectrum vs. Full Spectrum
Based on the latest science and Dr. Sulak's clinical experience, we believe keeping the widest range of the plant's compounds intact improves results at lower usage amounts. 
While many products advertise themselves as "full spectrum", if you can find their analytic results you'll note that most only contain CBD and THC, with little or no acidic and minor cannabinoids, terpenes and other valuable phytonutrients.
It's also common for hemp plants, even those organically grown, to contain various contaminants like mold, yeast, bacteria, viruses and heavy metals from the growing, harvesting and drying process. Most extraction processes either concentrate these contaminants or remove them while also stripping the plant's other valuable compounds.
The Healer Spectrum is created by our patented nano-filtration extraction process which removes impurities while maintaining the "entourage" components of hemp — that complex mixture of hundreds of plant compounds– to deliver maximum relief. Compared to so-called "full-spectrum" and "broad-spectrum" products, Healer Drops deliver more of the plant's naturally occurring acidic and minor cannabinoids, like CBDA, CBGA, THCA, CBC, CBG and CBDV, as well as substantial quantities of terpenes, flavonoids and other phytonutrients.
Made in Maine, Organically Farmed
Healer Whole Plant Hemp CBD is made from Hemp varieties of Cannabis sativa plants specially selected for their physiologically active plant compounds. They're grown in Maine and "Certified Clean" by the Maine Organic Farmers and Growers Association (MOFGA).  The products also contain Organic MCT coconut oil to aid absorption and traces of ethyl alcohol as a safe and effective preservative.
Lab Tested
Healer Spectrum sets new standards for cleanliness, safety and potency, but, you won't have to take our word for it. Final products are third-party tested to verify that the product you purchase is the product we intend you to receive. We post a certificate of analysis for every product so you can feel confident and secure.
Healer Whole Plant CBDA drops come in 200 mg, 700 mg, 1500 mg and 3000 mg sizes.
Each purchase includes:
Step-by-step Usage Guide and Response Tracker©
30 day satisfaction guarantee
Healer Helps – Giving back to people in need
Certificate of Analysis (online access)
This product is:
Healer Spectrum
Non-impairing: less than 0.3% THC
3rd-party lab tested
Made in Maine
Organically farmed
non-GMO
Vegan
Gluten free
Shippable to all US States except Idaho, Iowa, and South Dakota
*** We recommend this product remain refrigerated while not in use.***
*These statements have not been evaluated by the Food and Drug Administration. This product is not intended to diagnose, treat, cure or prevent any disease.

[1] Pellesi, Lanfranco, et al. " European Journal of Clinical Pharmacology 74.11 (2018): 1427-1436.
[2] Takeda, Shuso, et al. Drug Metabolism and Disposition 36.9 (2008): 1917-1921.
[3] Rock, E. M., et al. British Journal of Pharmacology 169.3 (2013): 685-692.
[4] Rock, Erin M., et al. Psychopharmacology 234.14 (2017): 2207-2217
[5] Anderson, Lyndsey L., et al. Journal of natural products 82.11 (2019): 3047-3055.
Learn more: Everything you need to know about CBDA
Reviews
Lab Results
A Certificate of Analysis, or COA, is a document issued by a third-party, independent testing laboratory that confirms that a product meets its specific specification.  Each COA details the quantity of cannabinoids and terpenes found in each product as well as confirming that each product does not contain harmful heavy metals, pesticides, solvents, and pathogens. ​COAs are meant to keep customers safe and informed, but they also help emphasize quality. It's one of the reasons you can trust our product quality, safety, and consistency.
A separate COA is available for each batch of products we sell.
Frequently asked questions
Can Healer Hemp products cause impairment or intoxication? 
No. CBD and CBDA are non-intoxicating. The levels of THC present (less than 0.3%) in our hemp products are far too low to cause impairment. Many people use hemp products to improve their function, the opposite of impairment. Regardless, we recommend avoiding driving or participating in any dangerous activity until you know how any new medication or supplement affects you.
Review all our FAQs